Our clients often come to us feeling confused about how to create investment portfolios that work in the "real world." We understand; after all, with all of the investment guidance, wealth management strategies and theories floating around out there, it's easy to feel confused.
If you believe, as our wealth advisors do, that a "passive-style" investment approach works best, what steps should you take to construct a real-world portfolio? Here's what our investment professionals think.
Wealth Management Strategies: Diversification, Total Market Funds and S&P 500 Funds
If you're seeking alternatives to unsuccessful attempts at "beating the market" and stock picking – a.k.a. active management – consider an S&P 500 fund or a total market fund. S&P 500 Funds are among the most accessible ways to implement a passive-style wealth management strategy; these popular index funds are comprised of the 500 largest public corporations, weighted according to their market capitalization, or "cap weighted."
Why is cap weighting important? Because it impacts diversification: Companies are weighted within the index proportional to their size, so their cap weighting means that a company's representation is proportional to its capitalization. This may result in a concentration of value in relatively few companies within your portfolio. That means that though you're investing in 500 companies, almost 12% of your investment is sunk into just five firms – not exactly the epitome of not putting all your eggs in one basket.
When Creating Portfolios, Keep Asset Management Solutions in Mind
While these numbers underlie the need to exercise caution when relying on an S&P 500 fund, it's still a superior alternative to almost any actively managed mutual fund. However, just investing in these indexes means you're limiting your portfolio to a single asset class – U.S. large-growth companies – and largely ignoring small- and mid-cap stocks. Even though total market funds do include smaller and mid-size companies, the overlap between total market and S&P 500 funds is as high as 75%.
In a nutshell, risk and return characteristics between the two will be very similar, in contrast to the performance differences across asset classes reflected below.
The Top Row (of the chart below) performed the best, but it had the most risk. Looking at the top row the best performer for many of the years between 2000 and 2007 was REITs (Real Estate Investment Trusts). Sure, up until early 2007 the housing market was excellent, but we all know what happened to the housing market after that.
The Bottom Row represents the asset class with the least risk (in these examples) and unsurprisingly Large-Cap Growth is the most common asset class for this period.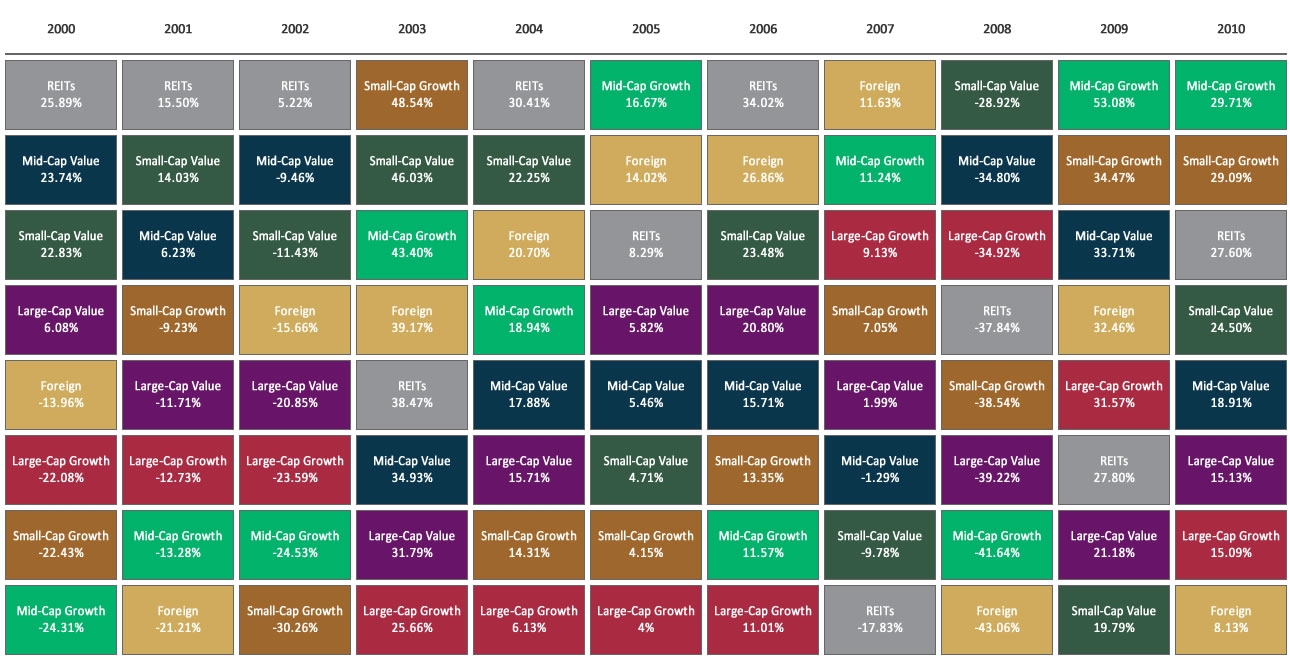 Does Your Wealth Advisor Select Asset Classes for Efficient Portfolios?
This table above illustrates some important realities of investment performance. A very important takeaway is that on a year-by-year basis, it's impossible to predict which asset class will do better than any other. The patter is random and cannot be predicted over any reasonable time frame.Though you're welcome to try, it's impossible to determine patterns in relative performance from year-to-year and predict which asset class will be the leader or laggard in a given year. Good years don't necessarily follow bad years, and vice-versa. And even if you did discover a pattern of sorts, there's no guarantee – or reason – that it will repeat itself in the future.
While you can create an asset class based on virtually any criteria – companies that all start with the letter M, perhaps? -- that's not the best way to find reliable and accessible building blocks to construct your portfolio. Instead, use structured, strategic criteria when creating asset classes and focus on broad diversification, both across and within asset classes.